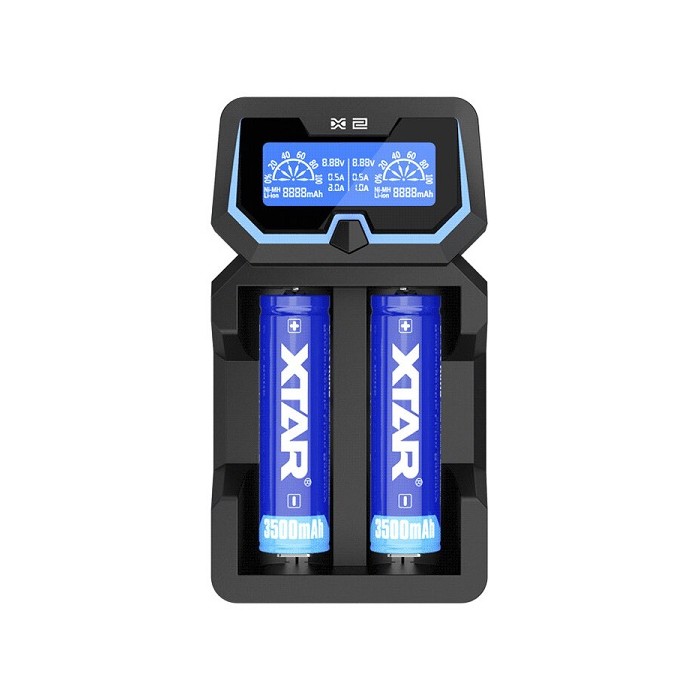  
XTAR X2 FASTCHARGER Li-ion / NiMH
Product information
XTAR X2 intelligent fastcharger for NiMH or Li-ion batteries


•Charging Li-ion batteries with a three-stage TC/CC/CV charging process
• CC charging of Ni-MH batteries
• 2 charging channels
• power bank function - USB 5V/1A output (only for Li-ion cells in sizes from 18650)
• three charging currents - 1x 2A / 2x 1A / 2x 0.5A (for Ni-MH and Li-ion cells up to 65mm long)
• LCD display indicating charging capacities, cell voltage and charging current
•powered by any 2A USB charger and directly from 230V network
• compact size - easy to carry
• function of reactivation of deep discharged cells
• protection: short-circuit, thermal, against reverse polarity
What is the TC/CC/CV charging method? It is a three-stage li-ion cell charging process that ensures that the cell is maintained in good condition by charging with the right current at each stage and completing the charging process at the right time.
The different stages of the TC/CC/CV process are:
•TC phase: cells discharged below 2.9V are 'awakened' by a lower current.
•CC phase: when 2.9V is reached, the cell is charged with a constant current of 1x 2A / 2x 1A / 2x 0.5A (for Ni-MH and Li-ion cells up to 65mm long).
•CV phase: When the cell is almost charged, the charger switches to charging with a decreasing current until the 4.2V voltage on the cell is reached. When the 4.2V is reached, the charging process is complete - the battery is fully charged.

The charged batteries left in the charger will undergo a natural self-discharge process. Charging will resume when the battery voltage drops below 3.9V.

In the box:
X2 charger, (EU)powercable, manual
Batteries are not included!

Compatible with the following battery sizes:
10440/14500/14650/16340/17500/17670/18350/18490/18500/18650/18700/20700/21700*/22650/25500/26650/32650 3.6V/3.7V Li-ion or AAAA/AAA/AA/A/ SC/C/D NiMH batteries.
*Not suitable for protected 20700/21700 batteries.
Product specs.
Brand

Xtar

EAN / GTIN

6952918351313

Nr. channels

2

Chemistry

Li-ion / NiMH

Connection

EU plug 220-230V

Nr. manufacturer

X4

Packaging

Box

Qty in packaging

1 pcs

Suitable for models

14500
16340
18650
21700
26650
AA
AAA

Typel charger

Fast charger

Indicates when charged

Ja

Modell

Desktop