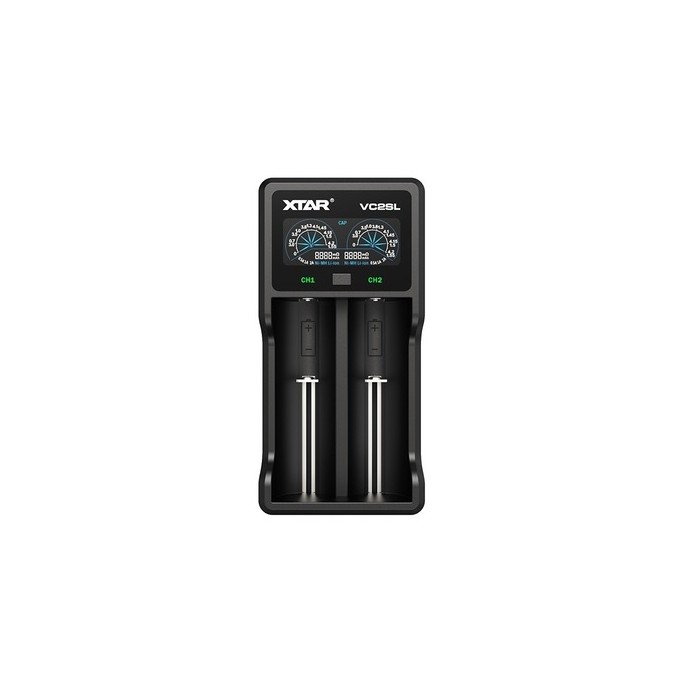  
XTAR VC2S CHARGER Li-Ion, Ni-MH
 In Stock
Ordered before 16:00 same day shipping. (mo-fri)
Product information
XTAR VC2SL intelligent Li-Ion/NimH USB  batterycharger.


For charging Li-Ion,Ni-MH batteries with a voltage from 1,2volt (NiMH), 3,2volt(LiFePO4) and 3,6-3,8volt (Li-Ion) for next models : 
Li-ion/IMR/INR/ICR ; 10440/16340/14500/14650/17500/17670/18350/18500/18650/18700/20700/21700/22650/25500/26650
Ni-MH/Ni-CD : AAAA/AAA/AA/SC/C
Specs:operation Temperature: Room temperature 0~40℃
Weight: 115 gr
Size(mm): 129 length x 66.5 width x 32.0 height
Input : DC 5V 2,1Ah (for best performance)
Output: DC 3.0/4.35v
3.0v/3.2v LiFePO4 Battery Charger (Charges to 3.2v)
3.6v/3.7v Li-ion Battery Charger (Charges to 4.2v)
3.8v Li-ion Battery Charger (Charges to 4.35v)  
Incl. micr. USB cable
Excl. USB 220V/5volt adapter and batteries.
Product specs.
Nr. channels

2

Capacity

1x2A, 2x1A, 2x0,5A

Chemistry

Li-ion/Ni-MH

Dimension

129x66,5x32mm

Connection

USB 5volt

Nr. manufacturer

VC2SL

Qty in packaging

Box1

Suitable for models

14500
16340
18650
21700
26650
AA
AAA

Supplied with

micro USB kabel

Typel charger

USB Lader

Indicates when charged

Ja

Worldwide use

Yes

Modell

Desktop