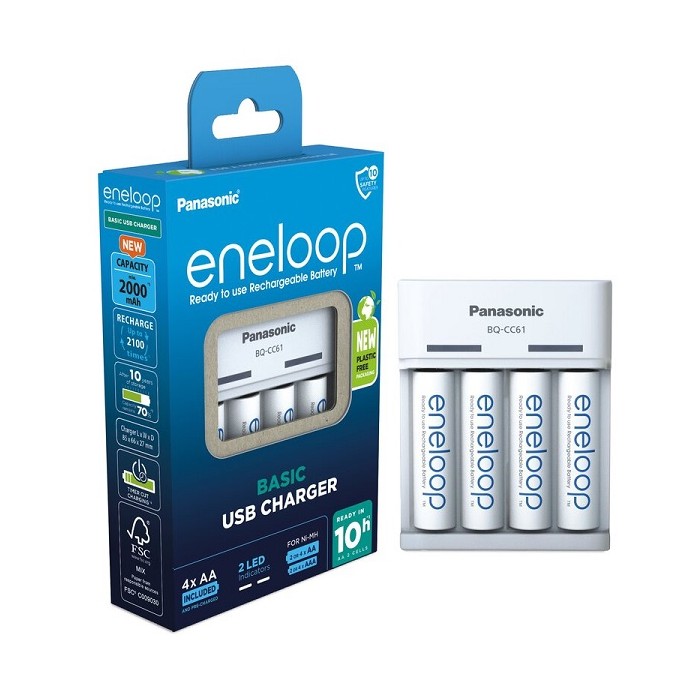  
ENELOOP BQ-CC61 USB BATTERYCHARGER INCL. 4XAA 190mAh
 In Stock
Ordered before 16:00? Same day shipping! (mo-fri)
Product information
Panasonic Eneloop BQ-CC61 USB charger inc. 4 x AA 1900mAh
charging from the USB port (the charger does not have an AC adapter included)
charger designed to charge NiMH batteries type R6/AA and R03/AAA
2 or 4 R6/AA or R03/AAA batteries can be charged at the same time
two LED indicators
protective mechanism that turns off the charger after about 10 hours
Size (L x W x H): 66 x 85 x 28 mm
Weight: Approx. 65 g (without USB cable)
new eco-friendly packaging
The charger has a protective mechanism that will turn off the charger after about 10 hours from the moment the charger is connected to the power supply. The charger has two LEDs. The LEDs light up during charging and go out when the protective mechanism turns off the charger.

Example of battery charging time:
Eneloop AA 2000 mAh - 10 h
Eneloop AAA 800 mAh - 10 h
Including 4 Panasonic Eneloop R6/AA Ni-MH 2000mAh MCDE rechargeable batteries.
Product specs.
Brand

Eneloop (Panasonic)

Nr. channels

4

Chemistry

NimH

Connection

USB 5volt

Nr. manufacturer

BQ-CC61USB

Packaging

Box

Qty in packaging

1 pcs

Suitable for models

AA
AAA

Supplied with

4 x eneloop AA 1900maH

Typel charger

USB lader

Indicates when charged

Yes

Modell

USB charger