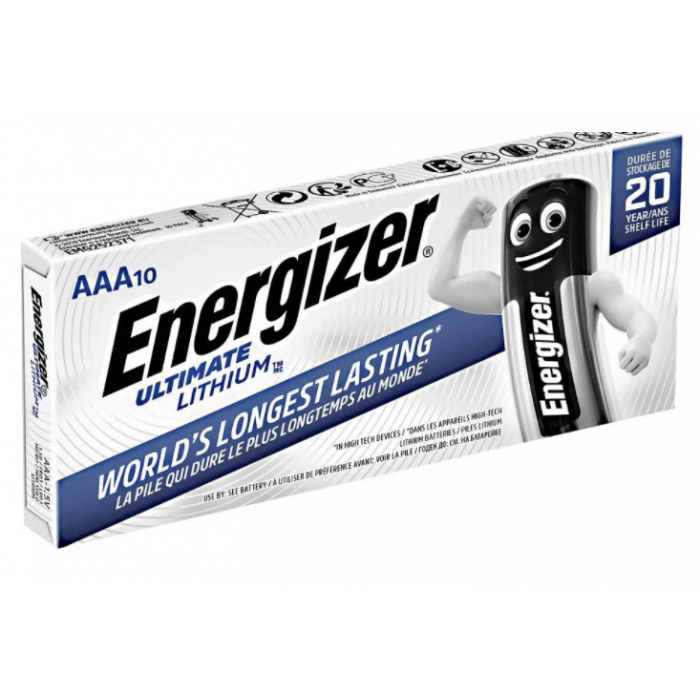  
10 PIECES ENERGIZER L92 ULTIMATE LITHIUM AAA
 In Stock
Ordered before 16:00? Same day shipping! (mo-fri)
Product information
10 pieces Energizer L92 AAA
The most powerfull AAA battery for high tech devices: up to 8 times longer lifetime relative to alkaline batteries. Perfectly suitable for circumstances with temperatures from -40°C to +60°C.
Compatible with: MN2400, AAA, LR03, MX12400, R03, minipenlite.
!Please notice: In a NEST smokedetector usually is AA/L91 needed
Downloaden
Product specs.
Brand

Energizer

EAN / GTIN

7638900343533

Celltype

AAA (L92)

Voltage

1,5 volt

Capacity

1500mAh

Chemistry

Lithium

Rechargeable

No

Max discharge (pulse)

2 A

Dimension

44,5x10,5mm

Nr. manufacturer

L91

Packaging

Box

Shelf life

2040+

Qty in packaging

10 Pcs

Modell

AAA,L92,minipenlite,LI03
Related products