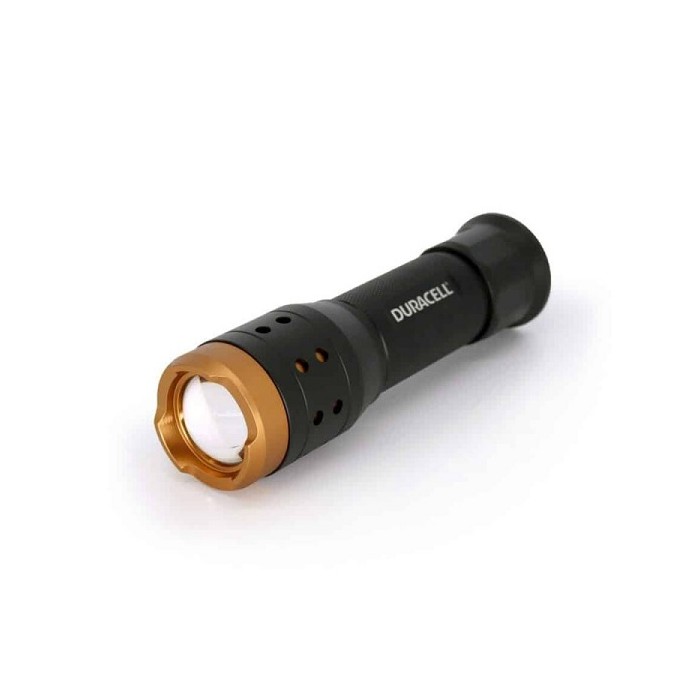  
DURACELL FLASHLIGHT LED 350 LUMEN
Product information
DURACELL FLASHLIGHT LED 700 LUMEN
This DURACELL flashlight with 700 LM is made for the most sensitive situations. The housing is made of durable aerospace-grade aluminum, making it extremely light and resistant to damage.
This perfectly designed flashlight has a light output of 700 lumens and a light range of up to 120 meters, making it ideal for both everyday use and outdoor activities. An additional advantage is the Zoom function, with which the brightness can be adjusted.
The lamp is IPX4 water resistant, which means it can easily withstand even the most extreme weather conditions. The continuous usage time of the flashlight is 2 to 20 hours, which allows long-term use without the need for frequent charging.
There are three light modes: Normal (Focused), Eco and Pulse, with which you can adjust the lighting to different situations.
4 Duracell AAA alkaline batteries are included.
Product specs.
Brand

Duracell

EAN / GTIN

00850009207128

Celltype

AAA (L92)

Color LED

Cool

Type of use

General

Capacity

700 lumen

Rechargeable

No

Dimension

14 x 4 cm

Nr. manufacturer

7128-DF700SE

Packaging

Card

Qty in packaging

1 pcs

Supplied with

4 x Duracell AAA batteries

Modell

Tourch