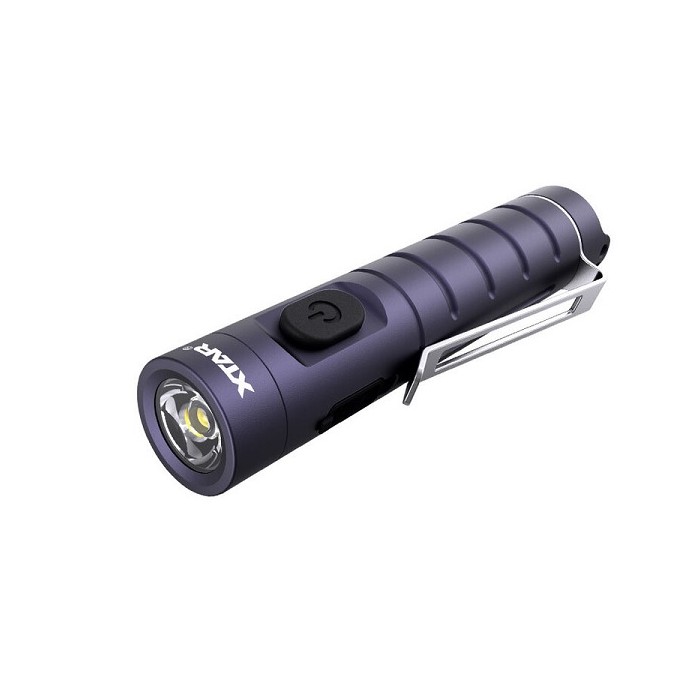  
XTAR FLASHLIGHT T2 POCKET 650 LUMEN
Product information
XTAR T2 COMPACT LED FLASHLIGHT
The Xtar T2 is a compact compact flashlight (14.5x75mm) with no less than 650 lumens output and a weight of less than 30 grams!
The finely finished, perfect T2 flashlight housing is made of hydraulic AL6063 aluminum alloy
The dangerous contacts and two ensure very good battery contact and high shock resistance. (fall resistant up to a height of 1.5m)
Unlike most flashlights, Xtar has used an underground OP-structure reflector, which, compared to a standard (smooth) reflector, produces a much happier and more pleasant beam.

Most important features:
- compact dimensions 14.8mm x 75mm
- weight 29.5g
- luminosity - 650 lumens
- built-in rechargeable battery
-charged via USB-C
- magnetic point
- clamp

T2 has 7 working modes (Memory of the last mode):
Normal brightness
strong - 650lumen - 26min
average - 130 lumens - 1.5 hours
low - 50lumen - 4.2h
"Moonlight" mode
strong - 6 lumens - 22.4 hours
Average - 4lumeny - 30h
low - 2lumeny - 45h
Strobe - 650lumen
Product specs.
Brand

Xtar

EAN / GTIN

6952918344216

Color LED

Cool

Capacity

650 Lumen

Rechargeable

Yes

Dimension

14,8x75mm

Nr. manufacturer

T2

Qty in packaging

1 pcs

Supplied with

USB-C cable

Modell

Tourch