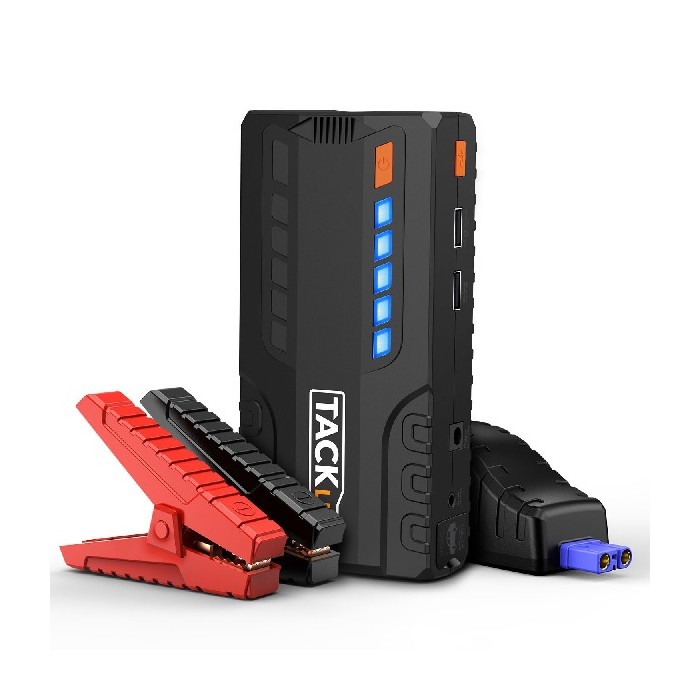  
TACKLIFE T6 JUMPSTARTER 800A
Product information
TACKLIFE T6 JUMPSTARTER 12VOLT/800A
More than a car booster, the T6 startbooster is also a bright emergency flashlight, making it easier to use at night. With a current of 300A and a peak current of 800A, the T6 Jumpstarter can start up all 6.2L petrol and 5L diesel engines up to 30 times - including cars, trucks, SUVs, motorcycles, ATVs and boats. Suitable for 12V cars, SUVs, trucks or vans (up to 6.2L petrol and 5L diesel engines).
In addition to 8 built-in general protections, the T6 intelligent jumper cable also comes with unique TACKLIFE non-sparking technology and unique audiovisual prompt technology - making T6 the most reliable jump starter on the market.
The new generation dual USB output (5V/9V) is compatible with almost all USB charging devices, including your pho
The 12V 10A DC port can power other car products (cigarette lighter adapter is included). Suitable for all carbatteries except lithium.
Product specs.
Voltage

12 Volt

Capacity

18Ah

Chemistry

Li-ION

Rechargeable

Yes

Max discharge

800A

Dimension

16x7.62x4.06 cm

Nr. manufacturer

T6

Suitable for models

12 volt lead acid

Application

Car,boat,etc.

Indicates when charged

Yes

Worldwide use

Yes

Modell

Startbooster T6