 
NOCO GENIUS BOOST+ GB40 JUMPSTARTER 1000A
Product information
Genius GB40 BOOST+ Startbooster  12V 1000A
The GB40 is a portable lithium-ion battery jump starter pack that delivers 1000-amps for jump starting a dead battery in seconds. It features a patented safety technology that provides spark-proof connections and reverse polarity protection making safe and easy for anyone to use. It's a powerful battery booster that doubles as a portable power source for recharging USB devices, like a smartphone, tablet and more, or powering 12-volt devices, like a tire inflator, power inverter and much more. Designed for a car, boat, RV, truck and more with gas engines up to 6 liters, and diesel engines up to 3 liters
A lithium battery jump starter rated at 1000 Amps.
Spark-proof connections and reverse polarity protection.
Recharges USB devices, like smartphones, tablets, and more.
Power 12V devices anywhere, like tire inflators, power inverters, and more.
100 lumen LED flashlight with multiple modes, including SOS.
Jump starts gas engines up to 6 liters, and diesel engines up to 3 liters.
Provides up to 20 jump starts on a single charge.
Downloaden
Product specs.
Voltage

12 Volt

Chemistry

Li-ION

Rechargeable

Yes

Max discharge

1000A

Dimension

152x76x254 mm

Nr. manufacturer

GB40

Suitable for models

12 volt lead acid

Application

Car,boat,etc.

Indicates when charged

Yes

Worldwide use

Yes

Modell

Startbooster GB40
Related products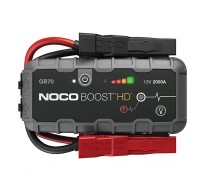 Price
€219.00
(tax incl.)
 In Stock